Posts tagged 'no-bake'
It has been humid this past week in Boston, and so I have been craving cold salads and anything frozen. Last summer, I made a heavenly frozen treat that I nick named "Monkey Bites." When I got around to making them again this summer, I found a way to simplify and clean up the process.
Smart, you say, right? I'd like to say that I am always that on top of my game, but we all know that is not true. More often than not, I am prone to some pretty hilarious blonde moments. Take the time I walked into my grandparent's glass door in Florida trying to look at the alligator in their lake. They were nice enough to tape a napkin to the door for the rest of the week so I knew my boundaries. In my defense, my grandma is a very clean lady…
When I am not walking into doors or saying silly things, I am at least coming up with creative kitchen ideas! The recipe is about the same: bananas, chocolate, and peanut butter. But the method is simplified and cleaned up with some handy grill skewers. First, cut the bananas into bite sized chunks. Then, thread a few onto a skewer and pop them into the freezer for an hour or two. When they are almost frozen, melt down some chocolate and peanut butter. This is much easier than creating a peanut butter layer on each individual banana piece but still gets you some chocolate and peanut butter-y goodness in every bite!
Then, take the skewers, and rotate the banana pieces in the chocolate, using a spoon to make sure they get fully covered.
Pop 'em back in the freezer for 20 minutes, then slide 'em off the sticks and keep in a Tupperware in the freezer! They make a good snack or small dessert bite, perfect for steamy summer days. Enjoy!
Question: Are you prone to blonde moments? Leave a comment telling your funniest silly story!
Smarter than a Monkey Bite
3 medium bananas, very ripe, cut into chunks
3 standard chocolate bars of your choice
2 tbsp peanut butter
6 wooden skewers
Cut the banana into pieces. Slide, with space, onto skewers and freeze. Meanwhile, melt chocolate and peanut butter over a double boiler. Cover each banana piece with chocolate mixture. Freeze for 20 minutes on the skewers, and then remove to a storage container. See text of post for more detailed instructions.
Time for another WIAW! Thank goodness this is a short week! I really needed Monday to recover from my half-marathon and other related festivities! I spent the day doing laundry, prepping snacks for the week, and enjoying good muscle-recovery food. Here is a glimpse into my day of domestic recovery!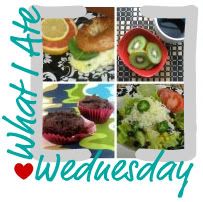 Breakfast: 8:30am
I woke up much earlier than planned because I was starving! I guess running 13.1 miles the day before will do that to you! I grabbed a handful of granola and tried to fall back asleep, but eventually gave in and got up. I am done with my sugar fast, so I enjoyed jam again for the first time in three weeks! One of my favorite combos on toast is berry jam with goat cheese, and this sandwich was made extra special by homemade blackberry jam from my visit to Italy and fancy bread from the pre-race pasta party.
Mid-morning bites
I spent most of my morning catching up on blog writing and reading, cleaning, doing laundry, and making snacks for the rest of the week! I made these bars from Miss Smart, and enjoyed a few bites as I was rolling them out! I also made these cookie dough balls from Chocolate Covered Katie, taste testing a bit here and there!
Lunch: 12:30pm
Vitamins and minerals in leafy greens are also essential for muscle recovery, so I made myself a big raw kale salad! Angela recommends allowing the kale to marinate in the dressing for 15 minutes, so that is what I did. The result: balsamic marinated raw kale with cranberries, celery and almonds. I was surprised at how good this was! The kale softened a bit in the dressing and had more flavor and crunch than normal lettuce leaves. And how could a combo of balsamic, almonds, and cranberries be bad?
Afternoon bites
I received a bag of whole almonds as a gift, and just couldn't let them go to waste! I spent some time shelling them, and then made Chelsey's cocoa roasted almonds. I probably nibbled as many cracked almond pieces as I did get successfully shelled almonds, but at least nothing went to waste. ;) And now I have a great study snack to satisfy any chocolate cravings I might have in the next few weeks! Afternoon snacking was rounded out by a crisp apple, though not pictured.
Dinner: 6pm
My original plan for the afternoon was to make a Roasted Garlic and Potato soup that I have been daydreaming of for a while, complete with some homemade bread, but the unseasonable weather changed my mood! After having the oven on for only 20 minutes to roast the almonds, I decided it was way too hot out to make soup and bread. I pushed that recipe back into my head until it cools down later in the week, and settled on some leftover barley and beet risotto instead. Served with a little shredded Parmigiano Reggiano cheese on top – just as good as the first time! My night was finished off with a handful or two of BBQ potato chips and a glass of red wine while studying with a friend – a little splurge to treat myself for the previous day's work!
Hope to be making that soup later today now that fall is back in Boston… stop by later this week to see the results!
Question: What is the best thing you ate today?
This past weekend, two of my best friends got engaged. They have been dating since we were 15, and are excited to finally start planning for the rest of their lives together! I am not usually a girly-girl, but I must admit to watching my fair share of "Say Yes to the Dress" on TLC since their engagement announcement. Their wedding is far off and so there is a lot of time to plan, but Amanda and I are too excited to not at least start talking about what she wants!
The night after he proposed, I invited Amanda over to get the details! We enjoyed a simple dinner of rotini with homemade roasted tomato sauce (I will post that recipe later in the week) and salad. A celebration isn't complete without dessert though! I saw this recipe a few weeks ago at OhSheGlows when my sister first started avoiding gluten. Most of her recipes are vegan, but lately she has been experimenting with more gluten-free desserts as well! This torte does not exactly contain what you would expect – I mean, chocolate and avocado? All of my friends loved it, even after the secret was revealed. The filling is smooth, rich, chocolate-y, and yet manages to remain light. Even better, this is no-bake, so no need for an oven on those hot summer nights! Definitely give this a try the next time you crave something chocolate-y ;)
Question: Do you have any weddings to attend this summer?
Double Chocolate Torte (Vegan and Gluten-Free)
lightly adapted from OhSheGlows, serves 8-16
Crust:
2 cups roasted almonds (if not salted, add 1 tsp of salt to mix)
1/4 cup cocoa powder
2 tbsp vegetable oil
1/4 cup maple syrup
1 tsp vanilla
Crush the almonds in a food processor. Do not overprocess as you want some chunks. Add cocoa powder, oil, maple syrup and vanilla and blend until a fine crumble forms. Line the bottom of a springform pan (between 7-10 inches) with cooking spray and parchment paper. Press the crust evenly into a flat crust in the bottom of the pan and pop into the freezer while making the chocolate mousse filling.
Chocolate Mousse:
3 small avocados
1/3 cup almond milk (or milk of your choice)
2/3 cup maple syrup
1 tbsp almond butter
1 tbsp cornstarch
1/4 tsp salt
1 tsp vanilla
1 1/4 cups chocolate chips, melted
1/4 cup cocoa powder
Spoon avocado flesh into a food processor. Add the rest of the ingredients through the vanilla and begin to blend well. Meanwhile, melt chocolate chips over a hot water bath. Add the melted chocolate and cocoa powder to the avocado mixture and blend well. The resulting mixture should be billowy and thick with no remaining avocado chunks. Spoon into the chilled crust and spread evenly. Return to freezer to set for at least 2 hours. Before serving, let sit on countertop for about 5 minutes. Sprinkle with powdered sugar (optional) and serve cold. Store leftover slices in air tight containers in the freezer.